November 20, 2022
8 tips to plan an amazing corporate hackathon
Kevin Peters
Founder of hackathon.camp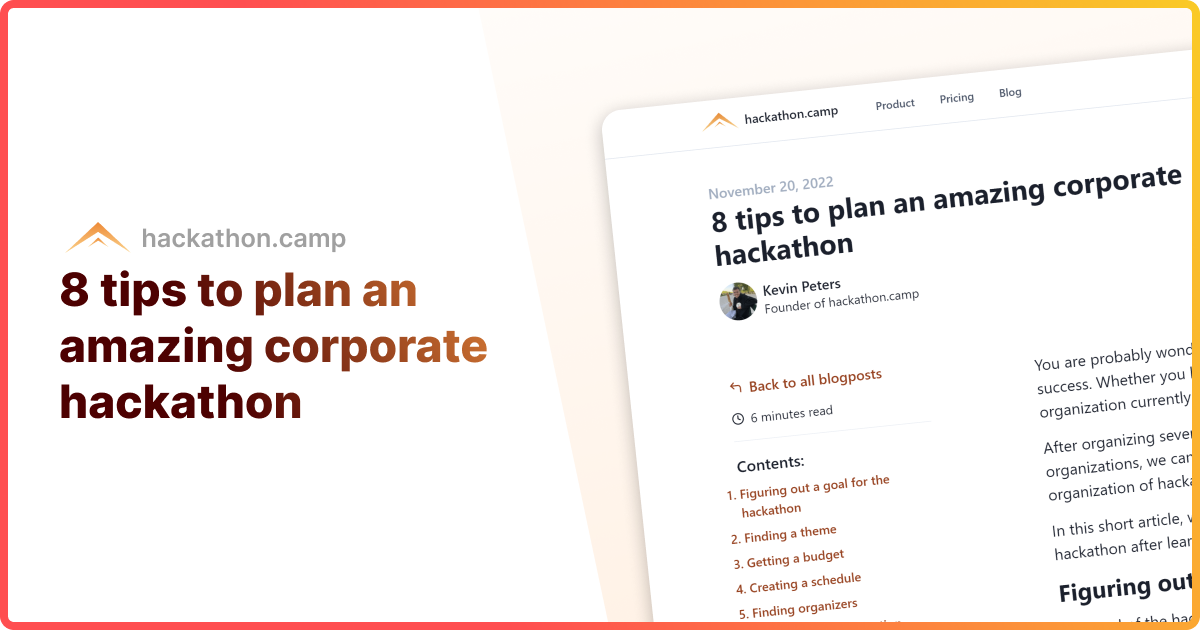 You are probably wondering how you can make planning a corporate hackathon a success. Whether you have never organized a hackathon or just struggling with the organization currently.
After organizing several hackathons and building a whole platform for hackathon organizations, we can help you. Now, we spend 90% less time on the actual organization of hackathons.
In this short article, we will show you 8 tips on how to plan an amazing corporate hackathon after learning from 10+ hackathons that I have organized.
Figuring out a goal for the hackathon
The goal of the hackathon should benefit the company organizing it. For internal hackathons, these are mostly internal goals.
Hackathons are social events that bring employees together and increase their happiness ideally. But they can also be used to drive internal innovation. A lot of new projects or even new companies form through hackathons. It is an amazing opportunity to increase revenue for the companies as well.
Before even starting a hackathon, you should think about what is your ideal goal for the hackathon. It should focus on the team building aspect and primarily on increasing the average tenure of employees. The more happy your employees are, the more likely they will stay longer in the company. On the other hand focus on driving technology innovation within the company.
There are two basic metrics you can impact with hackathons

Increasing tenure by improving employee happiness
Increase revenue/create opportunities through technical innovation
Finding a theme
To make a hackathon interesting you will have to find an interesting theme for the hackathon. The theme will interest your employees to participate in the hackathon. There are many themes that hackathon.camp recommends but the best way to find a good theme is to ask some people in your organization.
Ask people what they are struggling with in the day-to-day work that is not getting covered within their job duties. These are all themes that can be used for a hackathon. People to ask can be normal employees, but usually, the C-level of the company might have great ideas.
If you are looking for an innovative hackathon within your company, have a look at projects or products within your company with a lot of potential. Products that have something missing or where your support gets the most requests.
We have observed 3 common hackathon themes, that always work:
Internal Productivity - Improving productivity within the company
Open Source - Creating open-source solutions for the company
Connect the workforce - Connecting employees to improve collaboration
Getting a budget
To organize a hackathon you will have to have some budget. There are different costs associated with a hackathon that you have to plan for.
The costs start with a kind of invisible costs of organizing a hackathon. Usually, people spend around 60 hours per organizer on hackathon planning. This is a huge time commitment. But there are also other costs.
You will have to ideally provide swag for participants and get some prizes for the winners. All of those are direct monetary costs. After all, all participants of the hackathon will also not work on their normal projects, so there is some loss there as well. But overall, the hackathon will contribute to the success of your company. Improving employee happiness. And with that the average tenure of your employees.
During the hackathon, there might be costs as well for your organization: Credits for systems to be used like AWS, or other cloud development platforms. Food during the hackathon, and much more.
Think about your costs ahead of the hackathon
Include: The organizer's commitment, swag for participants, prize money for the winners
Platform access for all participants, or even issued credit cards for participants to use
Food for participants
Ideally, create a Google doc or similar for your organization and propose it to your leadership
Creating a schedule
To stay organized throughout a hackathon you should have a schedule. The schedule should have all events listed that are important. But there are two schedules to be created:
An organizer's schedule
A participant schedule
Usually, you should start with the latter, a participant schedule. You should list all important dates and times for the hackathon. Usually, the schedule could look like the following:
2022-10-01 10:00 UTC Hackathon registration and idea forms open
2022-10-08 10:00 UTC Hackathon registration and idea form close
2022-10-10 10:00 UTC Start of the hackathon with presentation
2022-10-10 10:30 UTC Start hacking
2022-10-12 17:30 UTC Remember to submit the hackathon project
2022-10-12 18:30 UTC Project submission form close
2022-10-14 10:00 UTC Hackathon project presentation
2022-10-14 12:00 UTC Hackathon Voting starts
2022-10-17 12:00 UTC Hackathon Voting stops & Winners announced
2022-10-18 12:00 UTC Winners' presentation
By sharing this schedule ahead of the hackathon you will make sure that participants will have a smooth hackathon.
Creating an organizers' schedule is also important though. It includes the same information but also additional events. As an organizer, you will have to send out communication via emails, Slack or similar systems. Reminding yourself when you have to send them out will help you to stay organized and focus on the actual hackathon. There is a lot to do anyway during a hackathon, so spending some time before planning a hackathon will help you to speed up things.
Plan a public schedule for the hackathon upfront
Plan an internal schedule as well with deadlines and when/where to send out communication
Finding organizers
Working in a team to organize an internal hackathon can help you immensely reduce the work you have to do. Alone having a reviewer for anything you are planning will get you ahead. You can spread the workload between the organizers' committee.
Working in a team will also enable you to get a more diverse and maybe better-approached hackathon. If you invite people from other departments to organize the hackathon you will have another perspective of what another profession in your company could get out of such an event. After all, hackathons are not just for engineers and designers, but for everyone within the company.
Find colleagues to create an organizers committee
Try to find colleagues from different departments to have a diverse group of organizers
Preparing communication
Communicating with your participants during the hackathon is important. Updating them when a hackathon is starting, updates during the hackathon, or even before the hackathon to remind them about submission deadlines becomes important.
3 announcement templates
The easiest way to announce your next hackathon. Within 30 seconds.
Writing the text is annoying if you have to do it under time pressure. It makes sense to prepare the text way before the hackathon is even starting. It will give you a head start. We recommend creating texts for all the common events that happen during a hackathon and getting them reviewed by other members of the organizing committee. hackathon.camp recommends preparing communication for the following events:
60 days pre-announcement message
30 days pre-announcement message
15 days pre-announcement message
7 days pre-announcement message
Final reminder announcement message
Start of the hackathon announcement
Messages during the hackathon; random questions about hackathons/trivia/about the company
Announcement on the final day to submit the project
Announcement to submit the project before the end of the hackathon
Announcement of voting for projects
Announcement of the winners
Hackathon Camp provides a lot of templates for the different announcements. You can speed up your process a lot by using our templates. Crafting all of this communication will cost you a lot of time. Rather spend it on the hackathon itself.
Prepare communication in advance of the hackathon
Use the Hackathon Camp templates
Make sure to archive the communication so the next hackathon can reuse them
Automating as much as possible
Automation is the key to saving a lot of time during a hackathon. A lot of the processes are typically done manually. An employee creates a form, collects project ideas, and then needs to assign interested people to the respective projects. A manual process. There are a lot of tools out there that can solve those problems, but most of the time a simple Google spreadsheet is used to automate these tasks. The user experience might lack with that and also the organizer will have to manage the forms, responses, and questions around the process. It will take a lot of time to organize just this process.
The whole hackathon consists of different processes that can be automated. For example, creating a wall of projects that lists all the projects that the participants have been working on. Processes like that should be automated.
Once you have been planning the processes, set up forms, and much more it is time to start the hackathon. But it will most likely not be the last. Document how you have created the tools and processes for the next hackathon organizer team. They will get immense value out of those solutions.
Automate as much as possible
Google forms/spreadsheets are super helpful in automating most of the processes
Document what you have done, so the next team can profit from that
Use hackathon.camp
If you have read up until here, you are probably interested in how to get started with the next hackathon. We have built all of our knowledge of hackathons into a platform called Hackathon Camp. We offer automation at each step of the hackathon, from inviting participants, over to matching them to the projects based on preference, or the voting process for example. We also provide communication templates for most of the situations mentioned in this article and help other templates to make your process of organizing the hackathon as smooth as possible.
If you have questions about Hackathon Camp feel free to contact us at hello@hackathon.camp for help with organizing your next hackathon.
© 2023 hackathon.camp. All rights reserved